28 August 2023
A rise in localism, coupled with a rise in will-making across the world, has seen a lift in the number of legacy gifts New Zealanders are leaving in their wills. Today, the New Zealand Community Foundations' network has over 650 confirmed legacy gifts, all to be invested for the benefit of local communities.

Edna Brown would be really proud of her legacy. This unassuming Tauranga local, who passed away in 2001, seeded through a gift in her will what was the first invested legacy gift with the fledgling Acorn Foundation in Tauranga. Fast forward 20 years and Sir Mark Dunajtschik, one of Wellington's most prominent philanthropists, also wanted to fulfil a desire to give locally "I made my money in Wellington, and I plan to leave it here when I go."
What do these two people, separated by time and place, have in common? They are leaving a gift in their will through New Zealand's network of local Community Foundations, and they are two of over 650 who have already decided to do so.
"I'm not surprised about any of this, people love to give locally", says Dr Claire Routley, legacy specialist from the UK. "And Community Foundations provide a great means for locals to activate their legacy, giving back to communities for the long term in a structured way".
New Zealand research[1] showed that Kiwis do prefer to support charities in their local area. "That's certainly something we see playing out across the country", says Arron Perriam, Executive Director of Community Foundations of NZ. "There is a real deep-rooted desire for people to leave their legacy locally. And it's so easy to do it through your local Community Foundation, a bit like having your own local trust, but without all the hassle".
Edna Brown

Edna Brown grew up in Rotorua, where she was the youngest in a family of ten children, five boys and five girls. She married George Brown and they lived in Wellington, where Edna worked in the hotel industry. Edna was a very determined lady, and she was always very kind to people who were in need. After her husband George passed away, she lived her final years in Tauranga.
When Edna passed away in 2001, she had left specific gifts to various family and friends, and had left directions to the executors of her estate to divide what remained amongst local charities associated with medical research or treatment.
Her executors were unsure how to go about choosing recipients, so decided to put the estate balance of $67,200 with Tauranga's fledgling Acorn Foundation, in Edna's name, with investment income going to areas of her interest. They could see the potential for Acorn Foundation's not-for-profit model to invest Edna's gift and channel it to regional needs over time.
Thus, in 2003, Edna Brown became the first Acorn Foundation donor and seeded the first personal legacy fund ever in the New Zealand Community Foundations network. Fast forward to 2023 and Edna's legacy fund has given out more than the original gift (total grants made to date are $75,839); and the original gift has grown to be $93,252.
Edna chose to support medical research or treatment causes in the Western Bay of Plenty and, to date, her legacy fund has given to 14 different causes - some multiple times (read more about Edna's fund here).
Sir Mark Dunajtschik
From his professional beginnings as a tool maker, to becoming a heavy hitter in Wellington's property development industry, Sir Mark's working style has always been hands on. His approach to philanthropy is similar. "Sometimes 'philanthropy' is seen as writing a cheque and walking away, but I've never been like that," says Sir Mark.

This drive to give back was seeded in Sir Mark's childhood. A native German born in the former Yugoslavia, Sir Mark spent three of his formative years imprisoned in a WWII concentration camp under Marshall Tito's rule of Yugoslavia, before settling in Germany as a refugee. Finding work as a tool maker, Sir Mark stayed in accommodation that also housed people with disabilities while he completed his apprenticeship. It was the combination of these two life-changing experiences that brought Sir Mark's attention to those less fortunate and set the scene for a lifetime of philanthropy.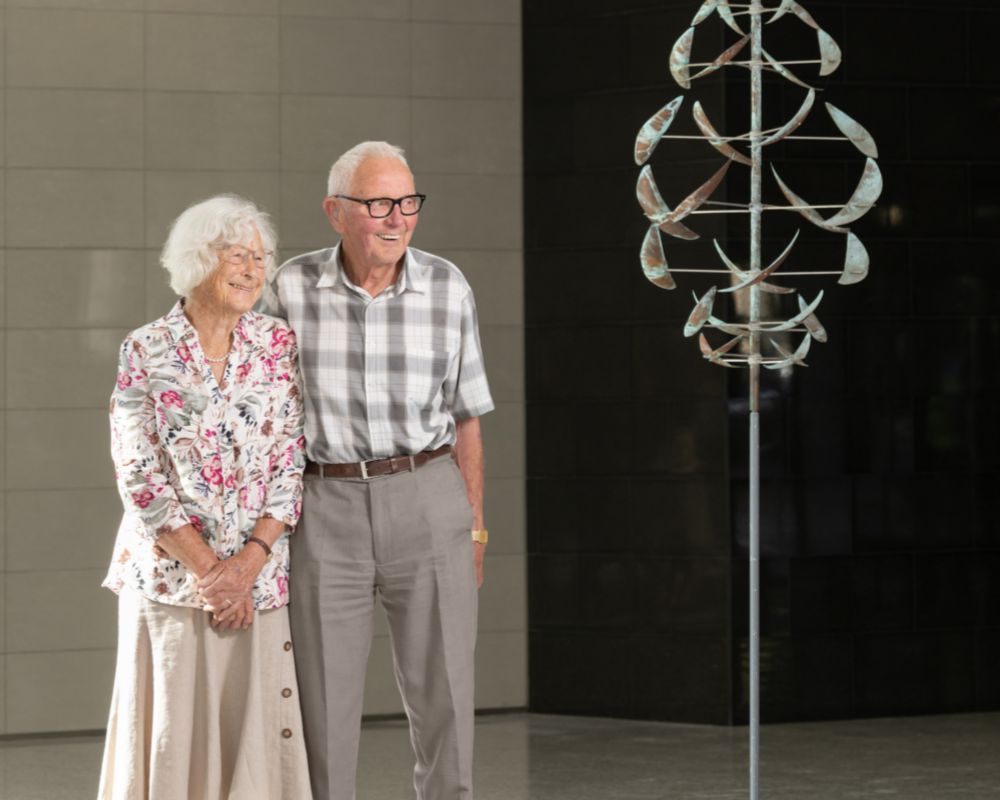 Leaving a gift in his will is always something that Sir Mark always planned on doing, saying "my partner Dorothy and I have had our bit in life, so now we want to make sure our good fortune is passed on to others".
Sir Mark had a specific vision in mind and wanted to make sure he found the perfect giving vehicle to execute his giving goals. His number one criteria was that his estate had to stay in the Greater Wellington region. "Wellington has been my home for nearly 60 years. This place gave me my first leg-up in life, and I wanted to reinvest in the city that made me," says Sir Mark. "The gift needs to have staying power and continue to give back for years after I've kicked the bucket."
As the Greater Wellington region's Community Foundation, Sir Mark found that Nikau Foundation's not-for-profit structure was the perfect fit for his giving goals. "Nikau is focused on local, and I trust them implicitly to give in the way I want." Sir Mark's gift to Wellington will give back in perpetuity, providing practical support to people living with disability.
Community Foundations as a way to give

Community Foundations, as a way to give, are a concept that New Zealand has taken on from the USA, where the first Community Foundation was set up in Cleveland in 1914. Frederick Harris Goff conceived the idea of a collective kind of community philanthropy, which would enable local people to get together to pool their funds, to address local problems.
In New Zealand, Community Foundations are a young network and growing, already with $240m in invested funds and a growing pipeline of over 650 legacies, which Kiwis have left through gifts in their wills.
"Kiwis love to give locally, and Community Foundations are turning out to be the perfect giving vehicle for many people who want to leave a community legacy. As a not-for-profit structure anyone - from all walks of life - really can shape a community legacy that is personal, is easy, and will give back to their local community, forever", said Perriam.
[1] Grimson et al (2020) How close to home does charity begin?
Read our stories of Kiwis who are shaping their local legacy >>